Airbnb SEO:
Get Your Listing To The Top
Start improving your Airbnb rankings immediately with our software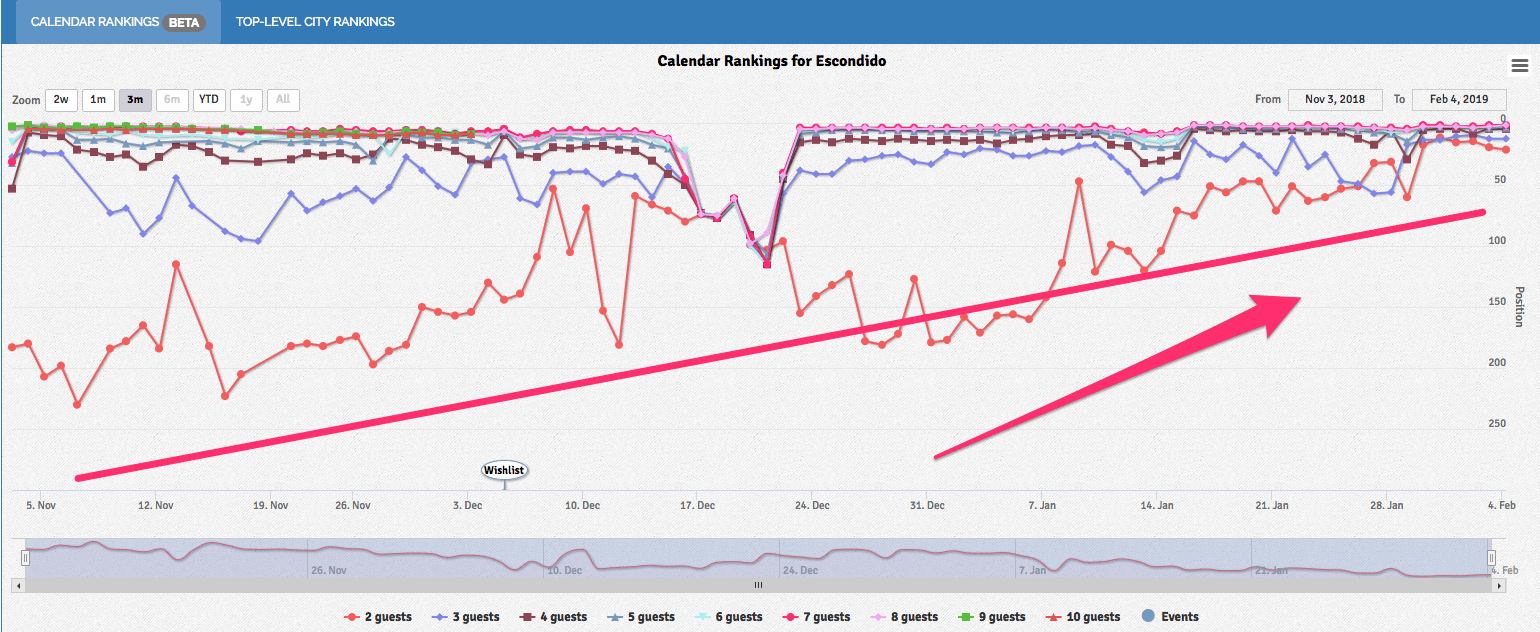 Whether you operate 1 single Airbnb property or 200 properties, you absolutely need to be ranking on the first 2 pages of Airbnb to achieve the best results for your business and for your client's success.
If you want to gain rankings, improve your revenue, and defend your listing against competitors, then you'll want to pay close attention to what's coming up.
The Airbnb "Channel"
For many operators, Airbnb is the busiest channel and has the largest number of hungry travelers.
On average, 2 million travelers stay in an Airbnb every single night.
At some point, each of those guests found the property by using Airbnb's search engine.
First by filtering down to the city and by some other criteria, until something meets their needs.
This is exactly where SEO becomes useful and at Rankbreeze, we eat, sleep, and breathe Airbnb SEO.
However, we realize that not everyone knows the fundamentals of SEO, and especially SEO for Airbnb, so let's begin with the fundamentals.
What Is SEO?
SEO stands for search engine optimization and is the process of growing the number of visitors and the quality of visitors to your page.
SEO can be applied to get more visitors from Google to your direct booking website or to get more listeners for your podcast from the iTunes app store.
What Is SEO for Airbnb?
Airbnb SEO is search engine optimization for Airbnb hosts. This means that you are optimizing your listing description, photos, and your actions on the platform to improve your rankings on Airbnb.
The point is to understand what sort of metrics Airbnb is using to measure hosts and to improve those metrics.
The metrics that are required to become a SuperHost are certainly important for your rankings, but so are other lesser-known metrics, such as the click-through-rate of your listing from the search results page.
Why is Airbnb SEO important for hosts? 
If you're an Airbnb host, it pays to think about your SEO strategy. 
Why? It's simple: by optimizing the search engine visibility of your listing, your increasing your visibility and reach to potential guests. 
The more impressions your property has, the more clicks it can attract, and the more bookings you'll get.
Airbnb has over 150 million registered users worldwide booking and 1 billion stays on the platform alone – that's a lot of opportunity to maximize your occupancy rates.
Properties that rank higher, tend to stay highly ranked – this is because of the snowball effect that proper Listing Optimization can provide.
If you're focused on the profitability of your properties over the long term, then Airbnb SEO is crucial.
How Do I Increase My Visibility on Airbnb?
First and foremost, before you try to optimize your Airbnb rankings, you need to know where your listings rank first, so get your Airbnb ranking reports up and running first.
#1 Instant Visibility: Your Minimum Length of Stay
If you lower the minimum required nights to book your properties, you will be found in more searches. Our users are constantly focused on improving their Airbnb SEO and this is one of the easiest ways to increase your search visibility.
#2 Optimize "Instant Bookings"
The instant book feature allows guests to send their payment right away and reserve the place before anyone else. This simple feature leads to higher conversions across the board on all markets and enhances everyone's revenue once they turn it on.
#3 Quickly Respond to Every Message
In order to reach Superhost status, you need to respond to 90% of your messages within 24 hours. Airbnb values your response time because it makes for a better experience for their travelers.
#4 Update Your Airbnb Calendar
Airbnb used to tell travelers the last time a listing's calendar was updated but have since removed that for everyone to see. However, having an updated calendar is a signal of an active listing still and also prevents double bookings.
#5 Stack Your 5 Star Reviews
Reviews are one of the major factors when it comes to influencing bookings. When you have great reviews, this gives Airbnb the confidence to show your listings higher up in their search results.
#6 Complete Your Listing & Profile
Having a complete listing and profile is especially important for new hosts. As your reviews grow, you can depend on reviews to help improve your conversion rates and booking rates.
However, as a new listing, you can only depend on your listing and profile details. If hosts see your profile and that you operate other listings, they may take a leap of faith and book. It really does depend on whether the property also meets the guest's rental desires though.
#7 Use Professional Photos
It's the standard now to have professional photos. We also suggest not doing this yourself unless you have an eye for photography. There are certain rules in photography that professionals adhere to and that non-professionals wouldn't be aware of. Such as the rule of thirds, diagonal dominance, and the figure-ground relationship.
#8 Utilize Promotions
Airbnb sends your promotion suggestions to increase your search visibility. Sometimes these suggestions are helpful, sometimes they aren't. We would never suggest reducing your prices to gain search visibility, but it certainly works in the short term based on our tests.
#9 Convert Inquiries Into Bookings
Every part of the guest search revolves around small conversions along the way. This means converting messages to actual bookings and therefore improving your overall booking rate. You also want to avoid rejecting inquiries and canceling guests too since that will hurt your search visibility.
Traditional SEO vs Marketplace SEO
The primary difference between Google and Airbnb is that Airbnb is a marketplace with limited supply.
Google doesn't have a supply problem, so people can visit pages online as many times as they want.
Airbnb, on the other hand, contains listings that are a perishable item and expire after today. Also, listings can only be purchased a maximum of 365 nights.
Understanding Searchers
Every search engine has users and for Airbnb, those users are travelers. To understand searchers better on Airbnb, we need to understand their search intent and the overall booking flow.
We can break down a travelers search into a few broad parts:
Location (City & Country)

Dates

Number of Guests
These are the basic filters that 99% of guests apply before wishlisting their top listings, or better yet, clicking the book button.
Understanding Listings
When it comes to Airbnb SEO and your listings, there are aspects of your listings that you can control and some that you can only influence.
You have full control of your price, photos, and description. 
However, you can only influence metrics such as dwell time, how many people Wishlist your property, and also metrics such as Guest Satisfaction.
This is where our Optimization Journal comes into play. Our users are constantly tweaking their listings and recording the changes into Rankbreeze so that they can see how their rankings change.
Understanding The Guest Booking Experience
The entire purpose of your listing is to make it easier for travelers to say "YES!" to booking your property, instead of your competitors.
We call this conversion rate optimization and essentially it's all about how you can optimize each part of the booking flow.
For example, your booking rate is your most important conversion rate metric. The higher your booking rate, the more reliably Airbnb can send guests your way and trust that they will be happy with what they see.
Everything in Airbnb SEO revolves around building up a snowball of better and better metrics so that Airbnb trusts you as a host.
Grow Your Business with Rankbreeze
The tools that Airbnb provides for hosts is very limited. It has certainly improved in the recent years but Rankbreeze has developed tools that specifically focus on getting you more bookings with better SEO.
Here are a few core features of Rankbreeze:
Calendar rankings

Tracking your rankings across the city (at least the top 300 listings)

Competitor pricing, ratings and reviews

A simple A/B testing tool to improve your listings SEO metrics
Start optimizing your listings today with Rankbreeze