Airbnb SEO Strategy: Performing a Spot Check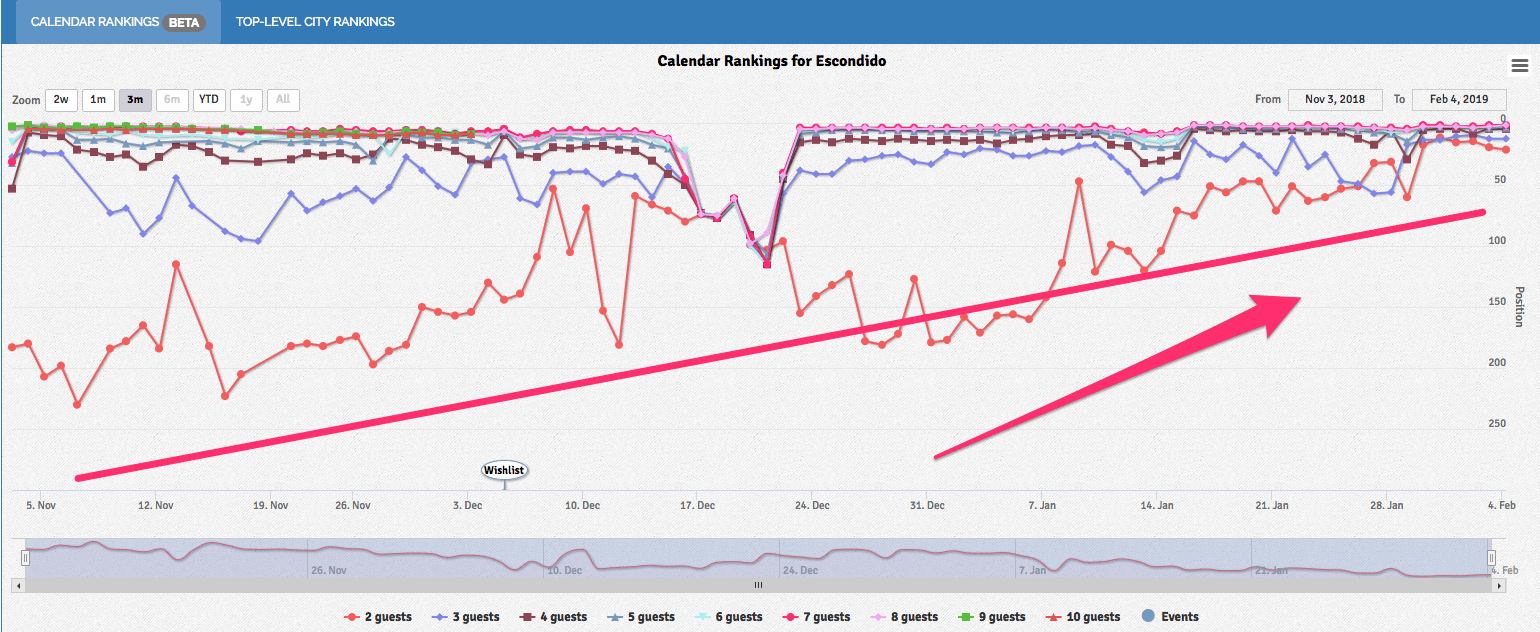 Start improving your Airbnb rankings with us today.
Looking for a simple way to optimize your listing?
You can start by improving your Airbnb SEO strategy first.
Search Engine Optimization (SEO) is all about playing the long-game with your search partners, including Airbnb, VRBO, and the others.
However, it can be complicated. So let's walk you through a simple way of optimizing for your Airbnb listings to get more guests.
Step 1 ☝️: Find Your Best Ranking Guest Count
Your Airbnb listing doesn't have only one rank, in fact, there are many!
An easy way to think about your different rankings is that you have different rankings based on dates being searched, guest counts, and the location of your listings.
The more guests your property can hold, the more search rankings you have for a single listing.
In Rankbreeze, we make it very easy to visualize your best guest count very quickly: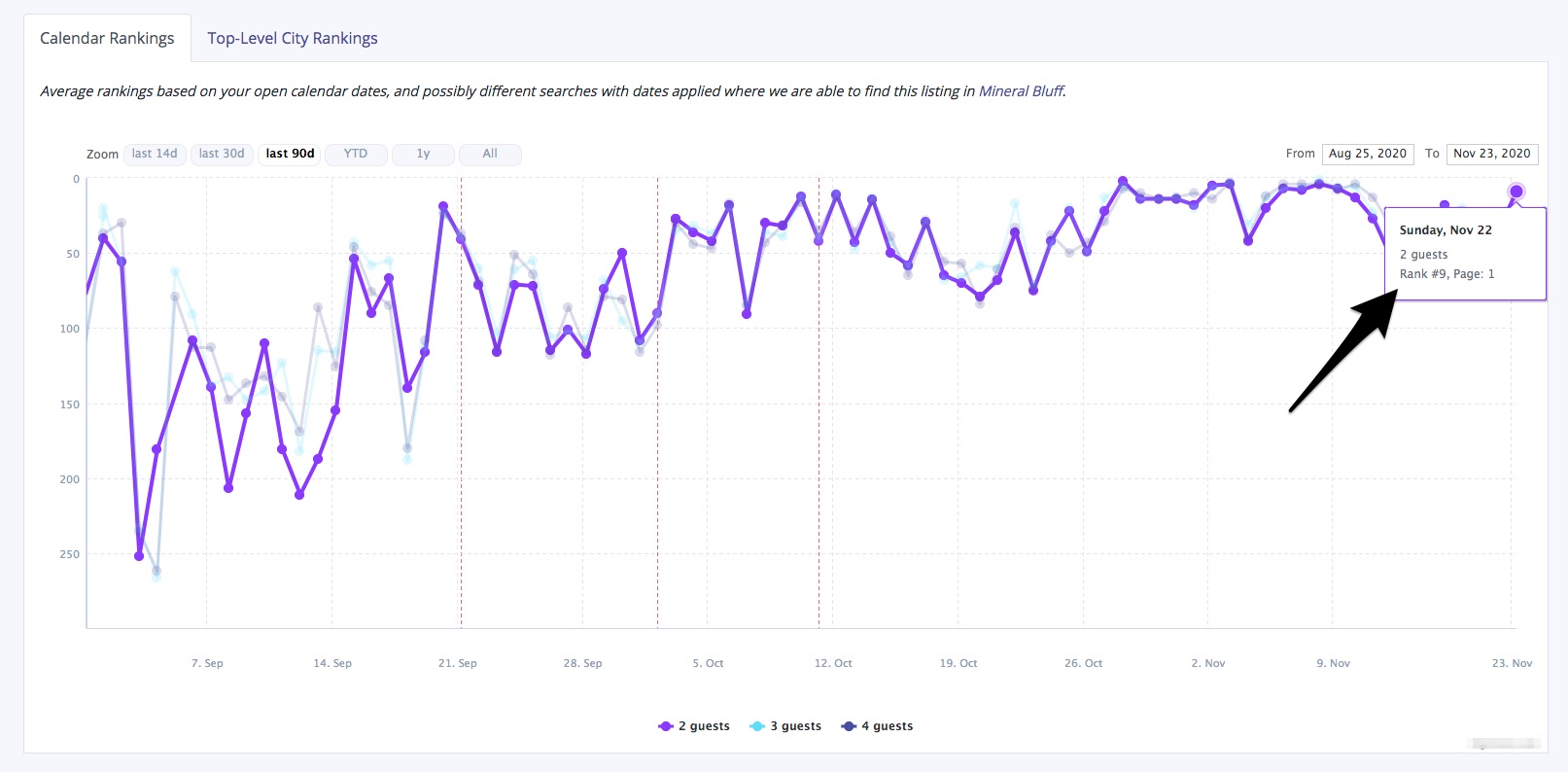 The picture above is showing the rankings of a listing in Mineral Bluff, Georgia.  It's showing that on November 22, this listing's best ranking was an average of #9 on the first page for 2 guests.
So why do we care about which guest count is performing the best?
A guest count that's already performing fairly well is collecting a lot of data and impressions. The more data your listing is collecting about itself, the better your SEO will be. Assuming it's positive data like great click-through-rates, value metrics and more.
With that in mind, let's move to the next step and zoom into an upcoming date for this guest count.
This will help us run an Airbnb SEO spot check.
Step 2 ✌️: Find Open Weekends & Match Guest Counts
Now that we know the best ranking guest count for our listing, we need to focus on a date to spot check.
A safe bet with short term rentals is that you can usually count on the weekends booking up faster than the weekdays.
To get started with a spot check, find your best ranking guest count AND an upcoming weekend.
With Rankbreeze, we have a table for you to spot check upcoming dates & rankings.
Once you click the spot check button, you'll see the listing's real-time competitors. 
For those exact dates, guest count, and neighborhood.
This is where we put ourselves into the shoes of the guest, but with our short-term rental operator hat on.
Step 3: Capture More Clicks & Eyeballs 👀 (Views!)
When we are looking for ways to increase our Airbnb listing's search visibility, we need to ask ourselves a few questions:
What is my best ranking guest count?

Who are my direct competitors at that size and quality-level?

If guests don't choose me, who would they choose and why?

Do my photos help drive more clicks?

Is my title helping to attract attention?

For this amount of guests, would the guest need to consult others and about what?

For this date range, how is my pricing?
This selection of questions, when posed to a specific date range and guest count should unlock several ideas on how you can optimize your listings. Of course, this is more of the art aspect of SEO, rather than the science part (such as the different ranking factors.)
Want to make this process even easier and better?
Try using Rankbreeze and get results like this.
Remember, the more people that see your listing, the more clicks you can grab from search results and the higher chance you have to convert those views into bookings.
Start optimizing your listings today with Rankbreeze