Have you ever wondered why Airbnb places some listings at the top, but maybe not yours?
To help answer that question, we've put together the best resource we could around Airbnb's search engine.
Below is a list of, what we believe, to be the most important Airbnb ranking factors.
Let's go through them one by one.
Feel free to jump to the factors your find more interesting as well.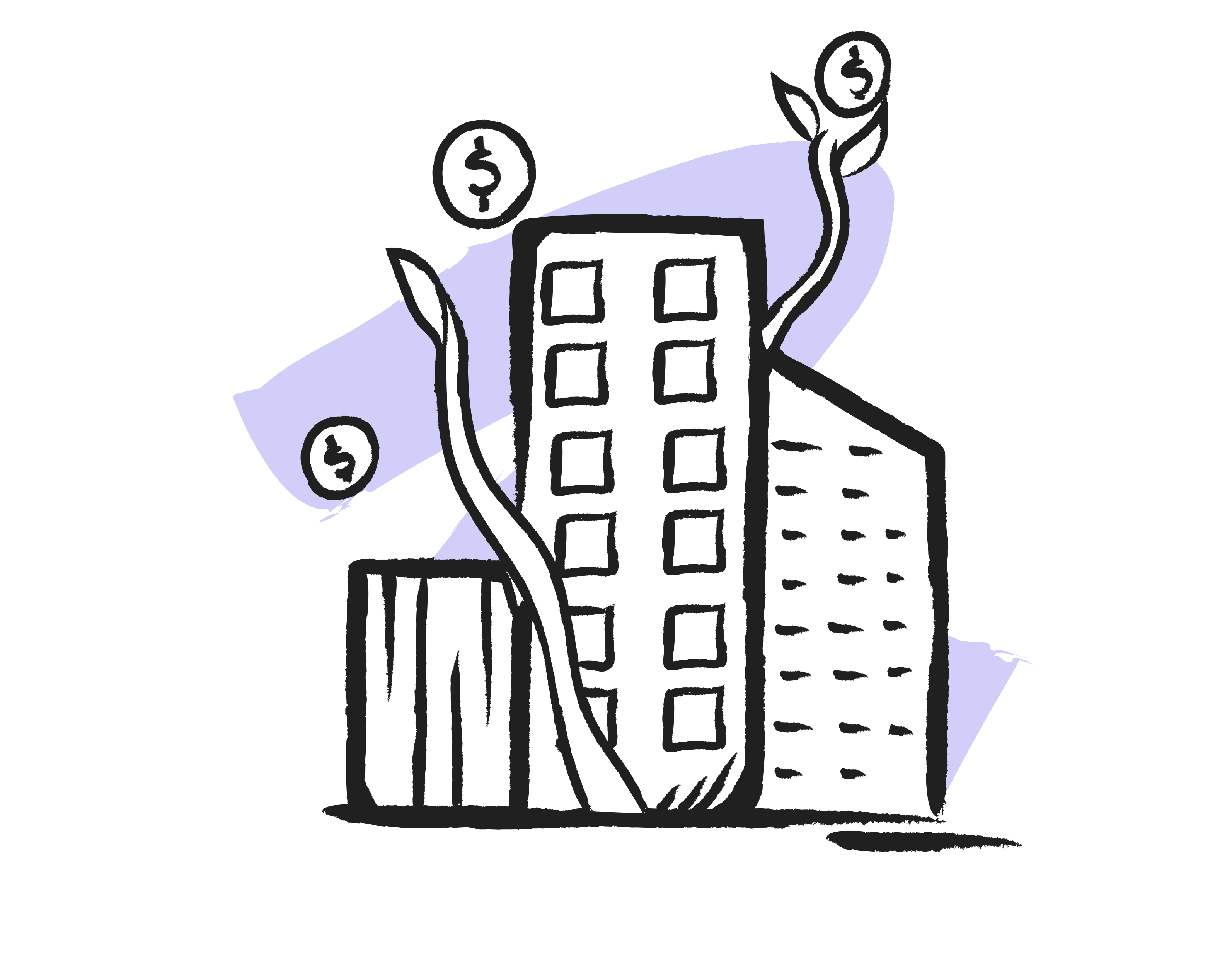 Rankbreeze is your best guide for all things optimization. We help bring search optimization, pricing and more to your fingertips.
Our mission is to improve the value of your business with our software and services.
A click-through" happens when a user goes from seeing your listing on the search results page and then clicks to go to your listing.
When someone starts their search for the perfect place to stay, they have a few things in mind:
The city
Dates
And (usually) guest counts
When the guest sees a list of Airbnb listings and one of those listings is yours, then your listing gets an "impression" – which is an important metric!
Then when that guest clicks on your listing, that's a "view".
Click through rate = Views / Impressions 
And this first factor is very important because it is a leading indicator of an "attractive" listing.
Excerpts from Airbnb conversations
Along the way, we're going to add pictures, videos, and charts like this so be sure to read them to get the full scope: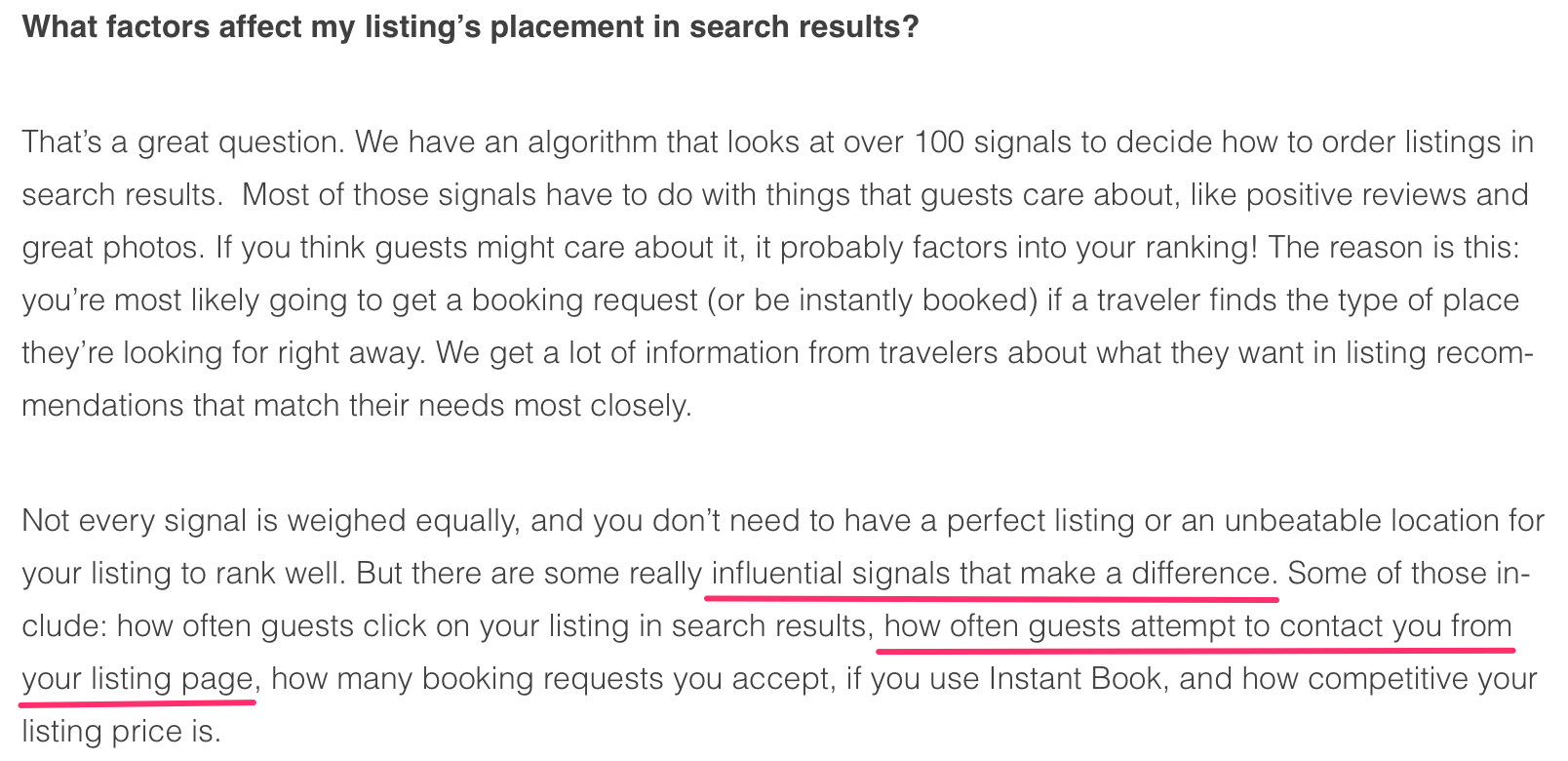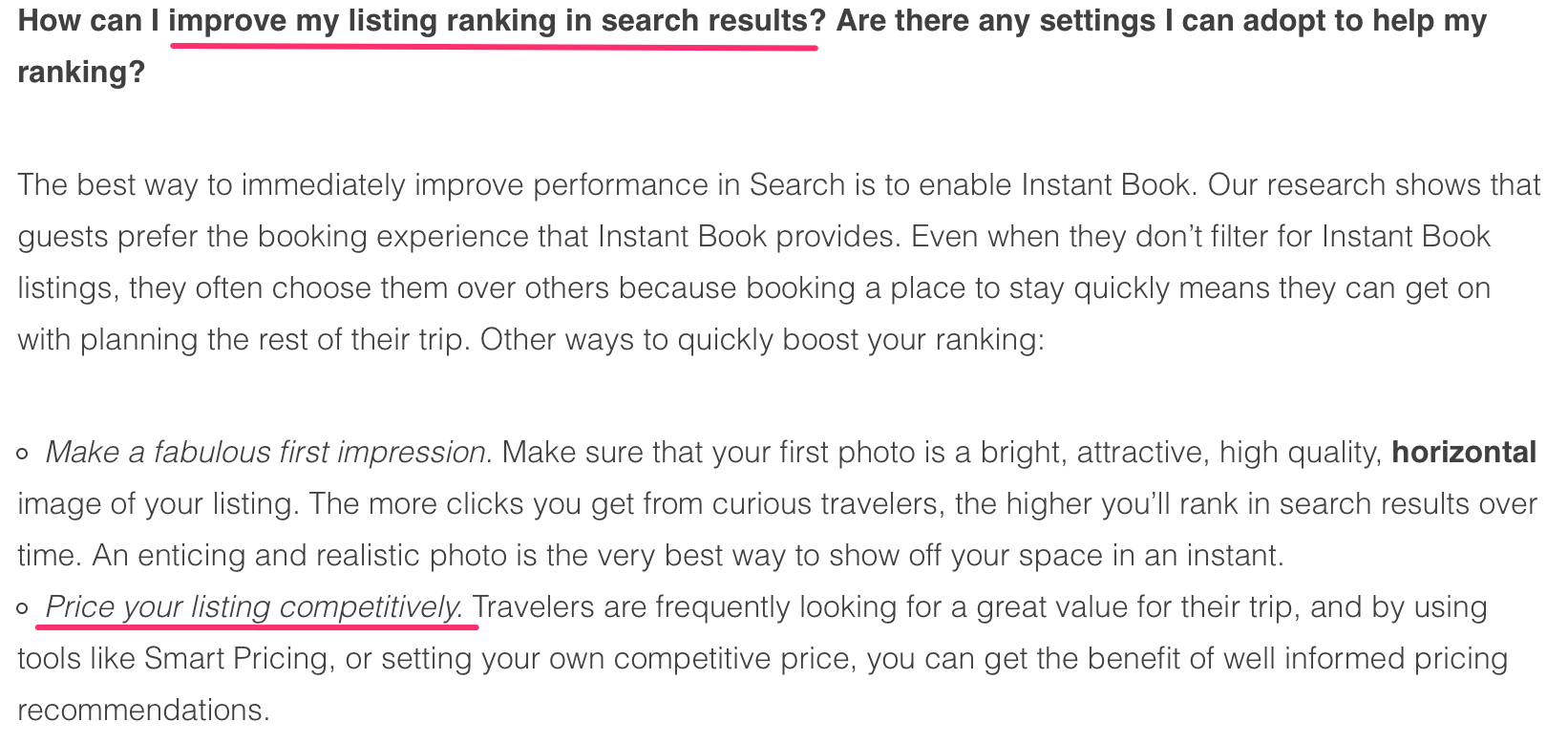 We were really struck with what it meant to price competitively…
How much can I raise my prices before my rankings drop?
How much can I lower prices to improve rankings?
Did it even matter?
Yes, we can say that it does matter.
To price competitively, you have to know what prices your best competitors are at. So to do this, we built the Pricing Calendar in Rankbreeze
It works like your multi-calendar in Airbnb, but you add in your competitors.
Airbnb likes listings that they know they can send visitors to and that those guests will book.
Occupancy rates and availability have a huge weighting in Airbnb's search rankings.
Have you ever noticed Airbnb places a "rare" tag next to a listing?
These listings have occupancy rates & conversion rates.
Want an extra tip?
If you can pull it off honestly, try adding the word "New" into your titles.


The video above is supposed to start at 4 mins. If it doesn't, feel free to skip over to that time.
This whole talk is very interesting and at some point, the presenter from Airbnb, Will Moss, talks about aiming their conversion time to 3 days. Meaning their goal was to have a guest start their search and confirm a booking within a 3 day period.
I want to be clear that I'm not sure if they still quantify this as their goal. However, it's still a goal that is measurable, although I think we can both agree that anything before 3 days is even better.
Here's another excerpt from a blog post:
More people coming to a listing to potentially book is a good sign.
We believe that Airbnb is constantly trying to correlate the "why" someone booked with the "what" someone booked.
From the picture below, we can see that the average number of pages someone visits on Airbnb is 12 pages.
This isn't a lot of pages, so make sure you are optimizing your listings for maximum search visibility.
Instant Book is all about getting quick "time-to-value" for the guest.
The guest starts their search, and if they find a property they want and book it instantly, they're going to much happier, the host is happy, Airbnb is happy, AND other properties get the opportunity to show up in search results because less supply is left.
If you haven't considered a guest's typical booking flow, this would be an excellent time to introduce that to you.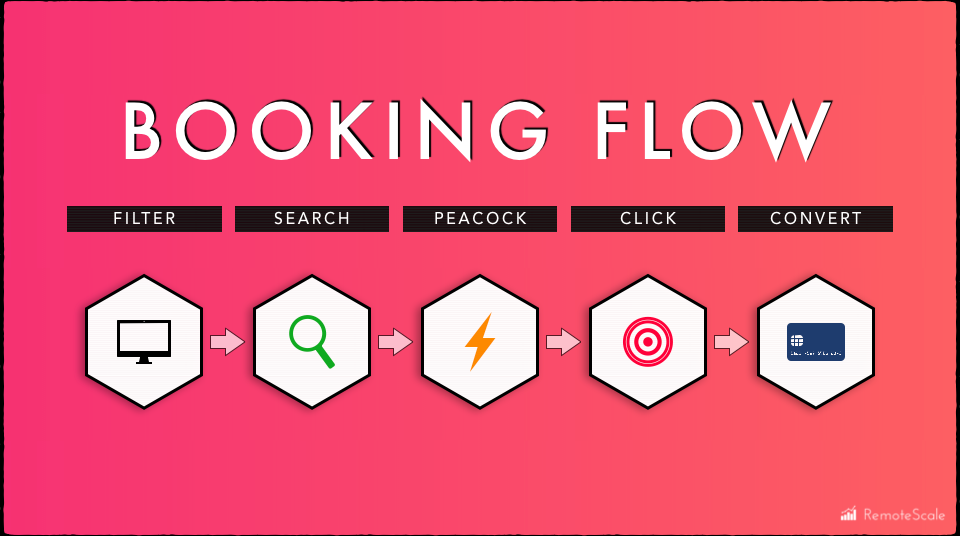 "Peacocking" means doing your best to stand out.
When you see a peacock, you aren't going to just walk away.
You're going to stop and admire it, right?
6. Featured Image Quality
Your cover photo might be the most important thing for your listing's search performance.
That little thumbnail in the search results is the main reason people stop scrolling.
From an algorithm perspective, it's the leading driver to improve your click-through-rates.
Beyond that though, in the early days of Airbnb, host's didn't have professional photos. When Brian and the rest of the Airbnb team went to New York and took "professional" photos themselves, they immediately saw an uplift in bookings.
We're sure they haven't forgotten those days.
Since we're on the topic of photos, we went through a study in another blog post that analyzed 510,000 Airbnb photos.
It took 16 months and the results showcase 12 attributes of photos that made a positive difference in revenue for the listings. 
You can check out that Airbnb photography study here.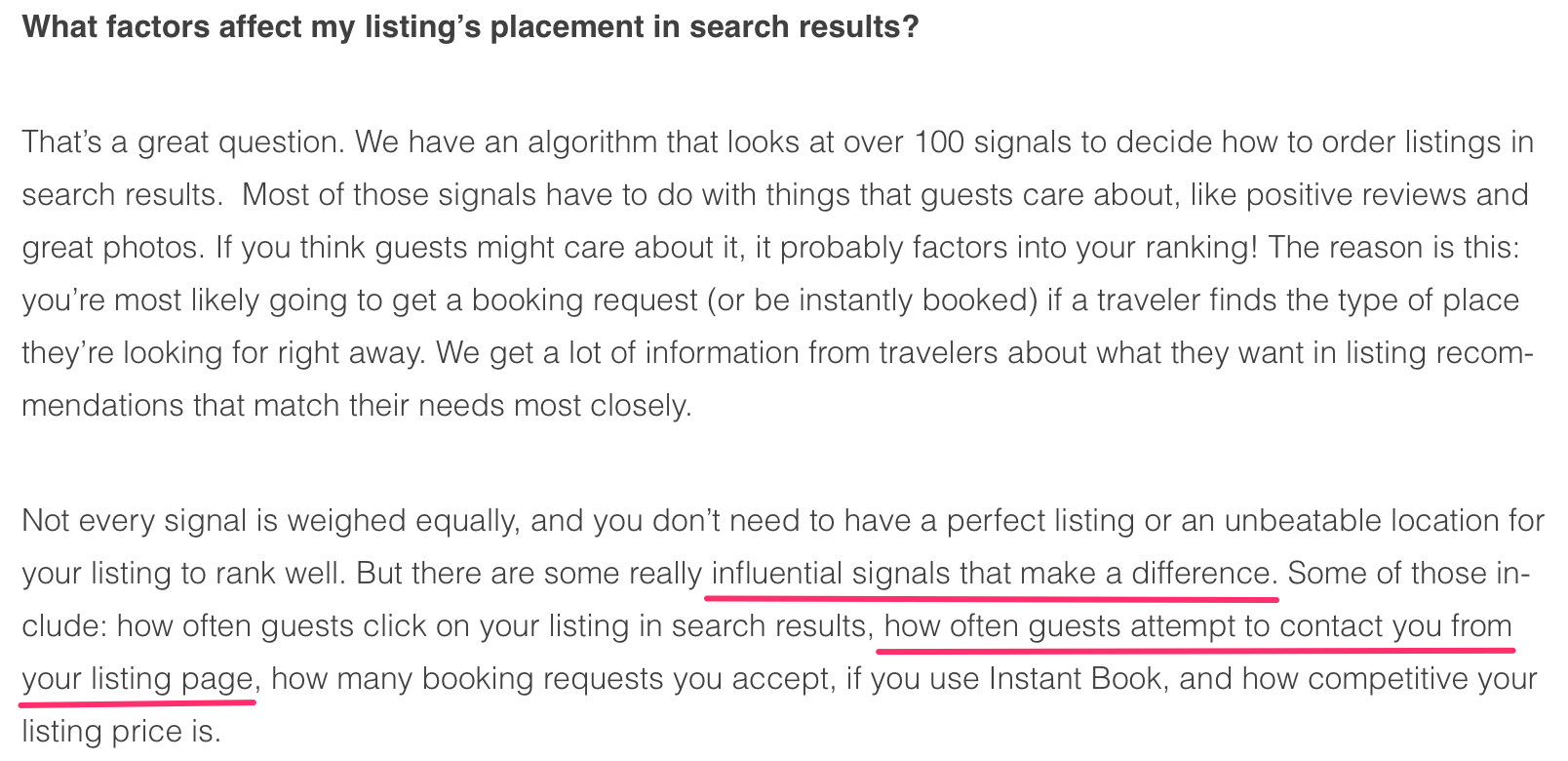 Once a person reaches your listing, there a few things that can happen:
They book!

Contact you

Press the back button

Change their search criteria

Or, give up and close the window
When we're talking about your Inquiry Rate, it's based on the number of people that contact you about a specific date or have a question about your space (and this is before they send a reservation request.)
This means that if someone doesn't book with you, the second-best thing they can do is to contact you.
Try and spice up your listing and encourage people to message you. 
One way to do this is to create an easy riddle for viewers of your listing and ask them to message you!
Remember to respond to these messages within 24 hours too.

From the quotes above, we understand that Wishlists matter over a period of time.
So this ranking factor is all about the pace at which people Wishlist your property.
Although, don't automatically discount the power of burst of Wishlists.
This photo is from a Rankbreeze user who has gone through our Optimized Listing Service, where we do 3 SEO campaigns at the end of the process to help you relaunch your listing.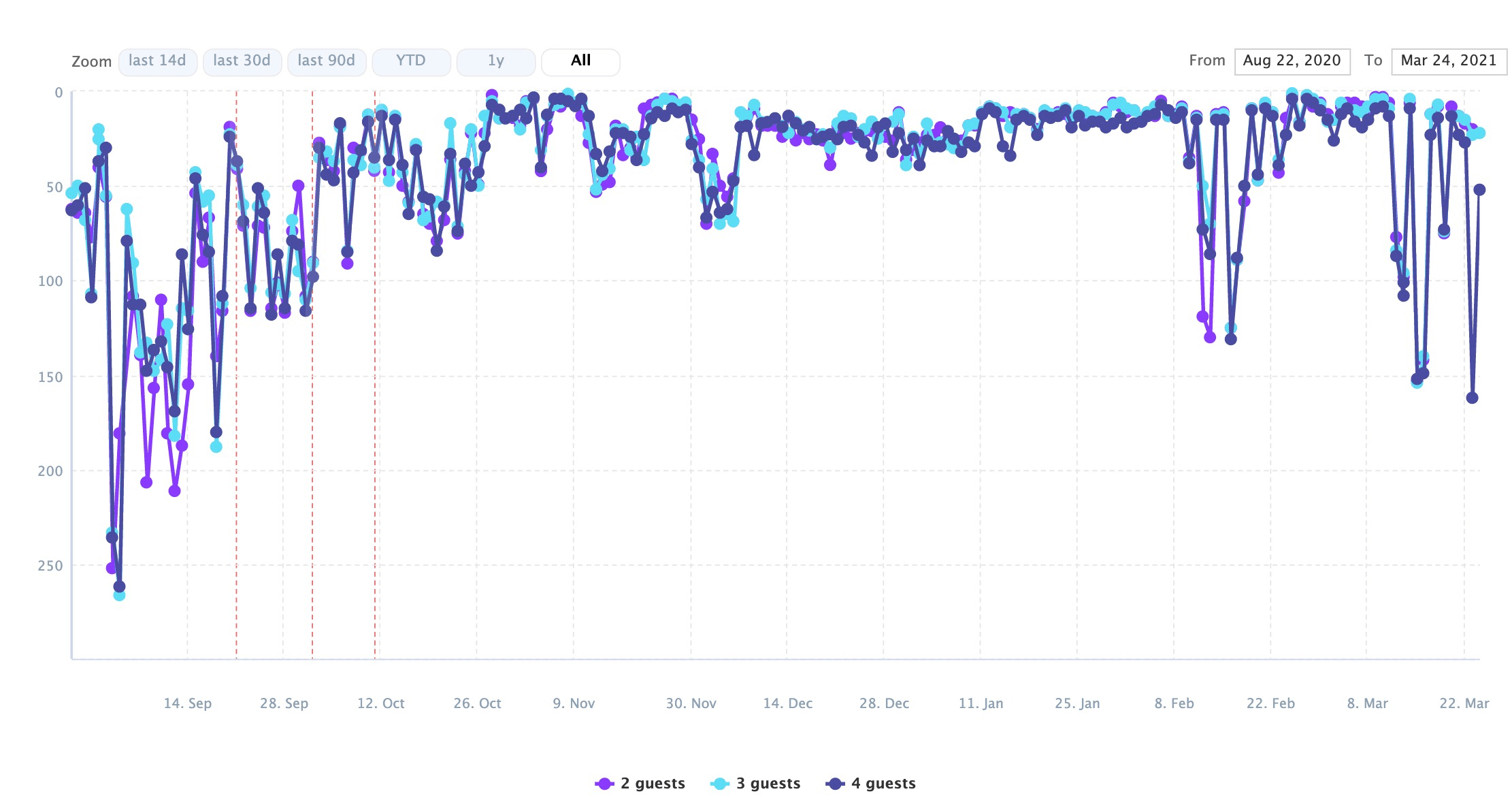 9. Desktop & Mobile Personalization

Some search engines have different versions of their results based on Desktop and Mobile views. Google definitely does and Airbnb does too.
In this video below, Mike Curtis, one of the heads of AI from Airbnb, mentions that with every click a user makes, it changes the order of the listings below.
On mobile, it's easier to change the order of the Airbnb listings since the user hasn't scrolled down yet. But on desktop, you'd have to change the next pages.
We should make one point though:
People change to different devices all the time.
Here's a scenario…
Jane wants to browse Airbnb on her phone. She does this during her travel time to work. Jane Wishlist's as many listings as she can so when she's finally back at her desktop, she can quickly decide and book the property on a bigger screen.
In our opinion, most people make larger purchases, like Airbnb, on their desktop. It's just something many people are more comfortable with. That doesn't mean that it won't change though.
There isn't a different optimization strategy for mobile or desktop, you just have to do your best foot forward and generally optimize for both.
You can, however, look at your listing in a mobile view by using Google Chrome's developer tools.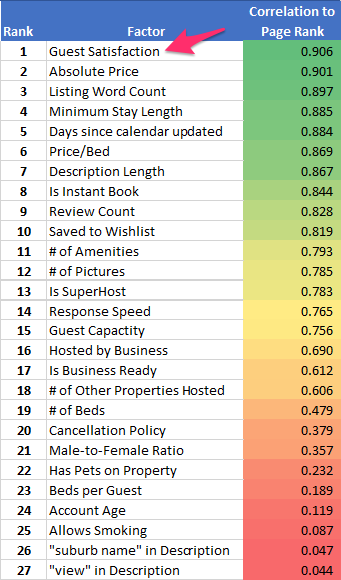 A few years ago in an old case study by Nick Childs, we discovered the importance of "guest satisfaction" for Rankings.
Guest Satisfaction is a metric that Airbnb applies to every listing.
It's a score from 0 to 100 and combines all the ratings a guest leaves for you. It's a combination of your value score, location score, host ratings, etc.
In Rankbreeze, we've extracted your Guest Satisfaction number for you so you can always keep track of it.

To add to the importance of this ranking factor, the A.I. video above also mentions that Airbnb uses A.I. to match guests with listings they believe "they will likely leave a good review for."
That sounds like it's under the umbrella of Guest Satisfaction to us.
Your acceptance rate = accepted inquiries / total inquires.
Airbnb claims that they measure your acceptance rate based on your peers. How those peers are defined is something we don't have insight into.
We would imagine that this comparison would be made with others in your area, however, it could also compare you to the other hosts this guest reached out to as well.

Airbnb suggests replying to every guest, regardless of whether they are the right fit for you.
From our experience, we haven't seen immediate impacts on rankings due to letting a request expire. Although we do believe that your rankings would slip if you were consistently rejecting guests.
12. Response Rate for Messages & Bookings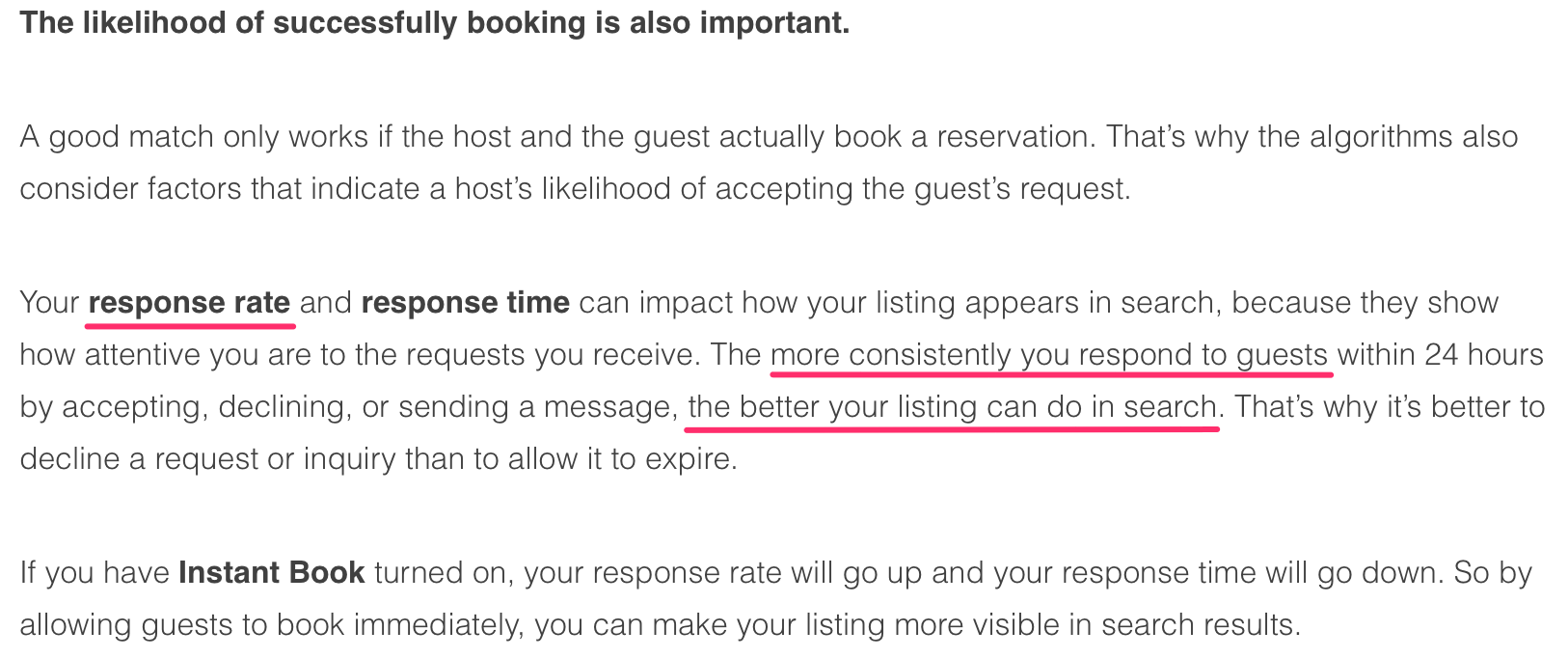 Airbnb has mentioned also that being an Airbnb Superhost does not give you better search visibility. However, the qualities associated with being a Superhost help.
You need a response rate of 90%+, within in 24hrs, to become a Superhost.
If you're completely unresponsive to inquiries then Airbnb is going to notice that quickly.
There are plenty of hosts who are on the ball too and can respond quickly.
Your listing is similar to a fighter in a boxing ring. Every review is an extra pound for you to punch with.
The quality of the reviews, the number of reviews, and the length of the reviews all matter.
The more positive reviews you have, the more a guest believes in your ability to provide a great product and service when they arrive.
This means that a listing with 500 reviews at 4.8 stars would be generate higher trust than a listing with 3 reviews but 5 stars.
Now being an Airbnb host, you might take a risk on a new listing since you have experience hosting but guests are more skeptical.
We already defined the response rate for Superhosts to be 90% in 24 hours. So, the response time to aim for in general is 24 hours.
If you've hosted long enough then you would have felt the burn of an inquiry that never ended up booking because they booked with someone else.
Airbnb would rather have a guest make a booking decision quickly so it's in their best interest to reward quick responding hosts.
The more amenities you have, the more search visibility you'll get.
For example, if someone searches for an EV charger for their Tesla, and there are only 5 in your city, then you're going to show up.
In search engine optimization, there's something called "The Long Tail"…
This is when there are less searches for something, but there is extremely high intent for it.
A high intent search comes with a higher probability of booking something that matches their search.
16. Complete Host Verifications

Having more verifications for guests and hosts is driven by the fact that Airbnb really presses for community.
Although we don't believe that this factor is highly weighted, it can help with conversions.
If a guest is inspecting a host, it might be reassuring to them that they've completely filled out their profile and all the verifications.

Lucky for us, Airbnb has already implemented the ability to search for keywords.
Right now we've found that optimizing your title is the best way to catch these keyword searches for your listing.
Here's a video to help you optimize your title for keywords:
Beyond this, there are a few other advantages to optimizing your title for Google searches too.
We can dive into that topic soon if you guys are interested!

Personalization is very important to Airbnb. They want to cater to returning users and present to them listings they think they're interested in.
When a guest is searching, they're going to see listings that continuously pop up because they've either:
Clicked on it recently

Wishlisted it recently
We also did another study here on Airbnb Personalization and came up with many takeaways so head there if you want to learn more about the impact of this ranking factor.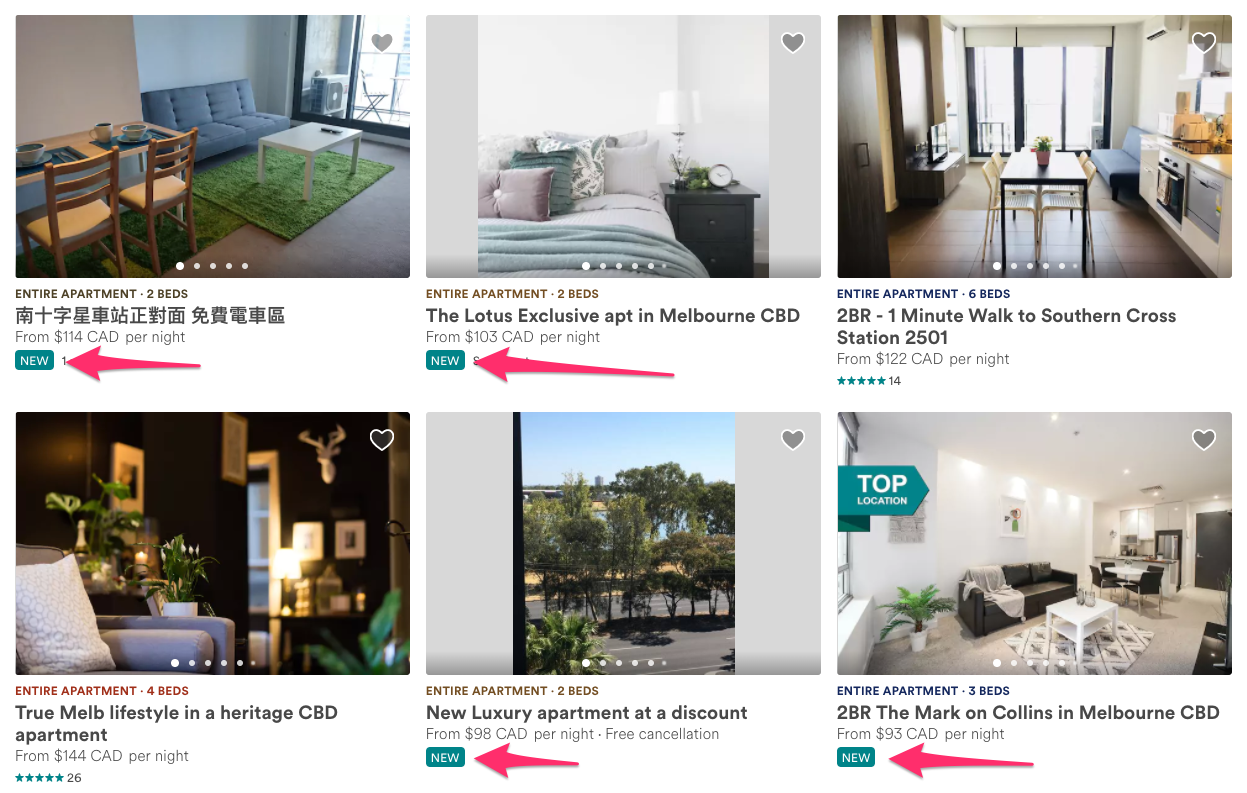 Airbnb wants new hosts to get a quick win right off the bat, so they provide better organic rankings for them.
The "new" listing badge works like this:
Your new listing starts at a baseline number, let's say it's 100 and it can't be changed when you have that tag on.
Then after your new listing badge is gone, your listing can have points deducted from it.
20. Past Guest Acceptances
Airbnb is a matchmaker. From what we can tell, it looks like they're measuring things like lead times and guest counts, with conversion rates.
When you're continually getting booked further out, regardless of your (hopefully-high) price, Airbnb is going to receive that as a positive signal. They know that when they send people your way, you're listing has a high chance of getting booked.
21. Guests' Booking History
This factor takes into account all the bookings that have happened on Airbnb, ever.
Here's how it works:
If several people end up taking different booking paths and all end up booking your place, then you'll rank higher.
For example, Jerry is looking to find a place in your city and needs it to be pet friendly, close to the sports stadium, and ends up booking with you.
Next, Monica searches for your neighbourhood specifically but a place with a view, laundry and is close to the river. She ends up booking with you too. This is a different booking path someone took.
Both searches started off differently but both ended up booking with you.
This means your location, amenities, and everything else is relevant to a wider range of people and relevancy is very important to search engines.

This is another factor that is correlated with your SuperHost status.
Although I don't believe it holds a significant impact in increasing your search visibility – I do believe that it can significantly drop your rankings if your commitment rate lowers.
Of course, no guest wants to have their booking canceled and then go back to search for another listing.
Travellers want to figure out their accommodations once and be done with it. As a host, you want to stay committed to your bookings.

When you receive a booking request, you can either accept or decline. If you decide to decline, Airbnb always asks for a reason.
One of those options is "Unavailable date", which I would never, ever choose.
Airbnb places a lot of emphasis on not wasting guests' time and having your calendar updated as a host.
When a guest selects dates with a specific listing (and not in the general search filters) they are able to see when the last Calendar update was:
This might be a conversion trigger, but I'm also pessimistic to call it that.
I don't really see it being a big part of their revenue factors but they should be keeping tabs on this for user experience.
It's very interesting (and unsurprising) that your visibility increases based on your social connections.
I've spoken to many people about this and interestingly enough, this isn't something many people want to do – myself included. 
Many hosts don't really want guests that are in their social circles.
This is understandable as there should always be a line between a host and a guest.
Personally, I think this might be their failed attempt to personalize searches.
With that, I'd give it less weight in terms of importance.
25. Turnover Preferences (Preparation Time)
This goes hand-in-hand with availability. Your turnover preferences are a signal to Airbnb that they should show your listing more often, if you're able to, because it grows their confidence that you can handle back-to-back bookings with quality.
Having more preparation time in between guests isn't necessarily a bad sign for Airbnb, but it will reduce your visibility because there are only 365 days per year someone can book any listing.
When guests are staying for an extended period of time, they're setting dates longer than the average 1-7 night stay.
At this point, Airbnb is not going to show listings that do not have any discount for longer stays. Especially in competitive cities.
Although long term pricing gives you a bump in visibility for a short period of time, if people are constantly taking you up on your offer for long term bookings – then you'll have less available dates for Airbnb and your visibility will decrease.
However, you'll have a nice long term tenant for the time being.
Hosting is different for everyone, many fall into the bucket of more turnover because it leads to higher revenue.
While others wouldn't mind a long term tenant with lower turnover.
There's no better or worse.
Regardless of whether you use our products or not, the point of any optimization is that you're taking the steps to increase visibility and revenue based on your own hosting preferences.

Location, location, location. That's real estate economics 101 right?
Well with Airbnb, it's a bit more sophisticated than that. Similar to airlines, when a large number of guests are searching for specific dates and locations, this gives Airbnb a signal to adjust a few things: Smart Pricing, visibility, and conversion triggers.
Here's a the conversion trigger for specific locations:

4% isn't a lot and if you're one of the very few listings available, you can actually play with your price a bit more because there is less supply.
When a listing is in a high demand area, they can benefit from late stage visibility. This means that your place may appear in results simply because the rest of the listings are already taken.
If you've got a good location and your risk preferences are a bit higher, then this ranking factor might be something you should consider beneficial to you.
You just have to make sure your optimized correctly when that time comes.
28. Guests' Booking Decision Speed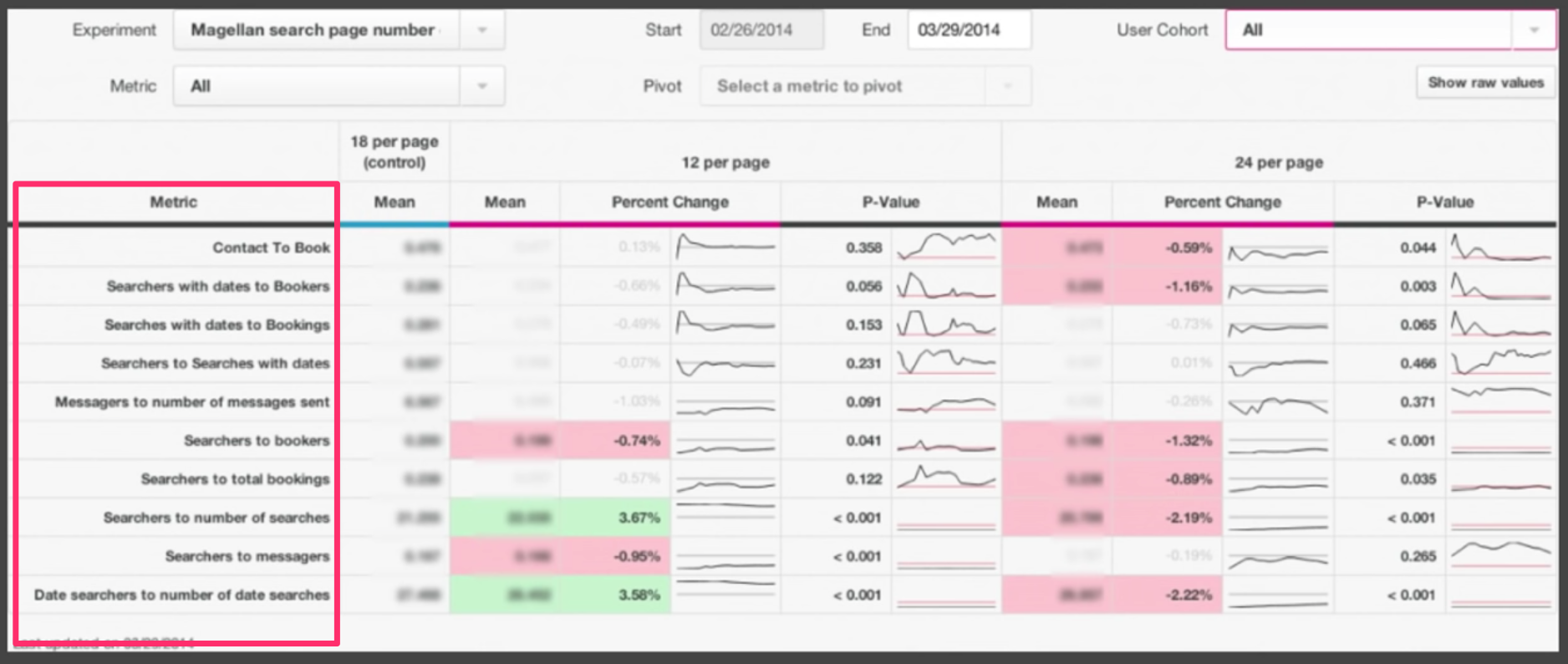 The image above is of an internal tool that Airbnb uses (used?) to measure split tests on their platform.
Although the picture is from 2014, it's perfect to show the "experiment" falls under how they're arranging search results.
In this test, they were experimenting with the number of results on each page.
Moving from their standard 18 (which they still have most of the time) to a higher number of 24 results per page and a lower number of 12.
The 10 metrics are the most important part for us though.
When we look at them individually, we see indications that the ranking factors we listed above are correct.
Especially #7 Enquiry Rate.
However, as a whole, all 10 metrics have an ongoing theme of answering "Do these variations help people make a booking decision quicker?"
Which gives us an idea that not only is it important to increase your Booking Rate Velocity (#4), but it's also important how quickly someone decides to book your place soon after they started searching.
If your listing gets booked consistently by people who just started their search, then you have a better chance of being ranked higher.
On the opposite end, if people arrive at your listing and constantly question it before booking, that's not great either.
So, what can we do to make guests say "Yes" quicker?
It might go beyond this conversation, but we've found that adding Call-To-Actions and Search Suggestions (aka how far away are you from the landmarks suggested by Airbnb's search bar) have been very helpful in this department.