Pricing your Airbnb's can be very simple, but also complex. It just depends how far you want to go.
Today, we'd like to start with the foundations and work our way up to those complex strategies.
No matter what tool you're using, whether it's Rankbreeze's pricing tools or Airbnb's smart pricing tool, you're going to need to supervise the prices.
Each night is considered a perishable item, so you can't sell a vacant night that has already passed. Which means your pricing must be on point to maximize your profits!
Airbnb Pricing Strategies & Frameworks
1) Price Anchoring
At Rankbreeze, we're very thoughtful about working backward from the guest. This means that we need to consider what the guest on Airbnb is going through.
From our point of view, most guests will compare a few listings before choosing to book. The guest could be creating a Wishlist collection or just simply working in a spreadsheet.
They're comparing prices, locations, amenities, and "value."
One of the easiest ways for you to optimize your prices would be to directly compare them against your closest competitors.
These are competitors based on location and quality.
To do this, we suggest trying out our Competitor Pricing Calendar.
The pricing calendar is essentially a multi-calendar, but you can add your competitors to it and compare competitor base prices to your own.
You can even see the base rates that were blocked off in the calendar.
Once you've decided on a base price, you can update your rates for surgical & customized pricing changes. Plus, you'll see the impact price changes make on your Airbnb SEO and search rankings.
2) Weekend Break-even Pricing
If there's one thing you can count on in the Airbnb world, it's that you can usually expect to sell out your weekends first – before your weekdays.
If you aim for setting weekend prices to help you break-even, then all your weekday income will be profit and gravy on top.
You should price your weekends so that if every Friday & Saturday was sold out, you'd break-even and could at least pay your rents. Sundays could be considered as a Weekend date too.
Here's a video to explain this strategy in greater detail:
Here's a simple example too:
If your property costs $1000/mo to rent and you have 8 Fridays & Saturdays in a regular month, then you'd divide $1000 by 8 nights. Which equals $125/night to utilize this break-even strategy.
3) Occupancy Based Adjustments
As each month passes, you want to consider how high of an occupancy rate is ideal for your listing at the beginning of the month. This will change based on the seasons but let's stick with simple examples first.
What occupancy rate are you comfortable starting the month with? 50%? 30%?
As a simple guideline, consider the occupancy rates you'd like to start stair stepping your prices in relation to.
For example, at a 70% occupancy rate, you will raise your rates by 10%. At 80%, you'll raise rates by another 10%.
This strategy doesn't need to be complex, just effective and thoughtful.
If you want higher revenue overall for the year, then you should enter those peak seasons with less occupancy because demand is high and supply is lower.
4) Analyze Year-over-Year Data & Be Objective
If you're lucky to have year-over-year (YoY) data then be sure to use it!
Analyze each of your properties' performance and see whether you're ahead or not of your normal occupancy levels.
This is called your "booking curve."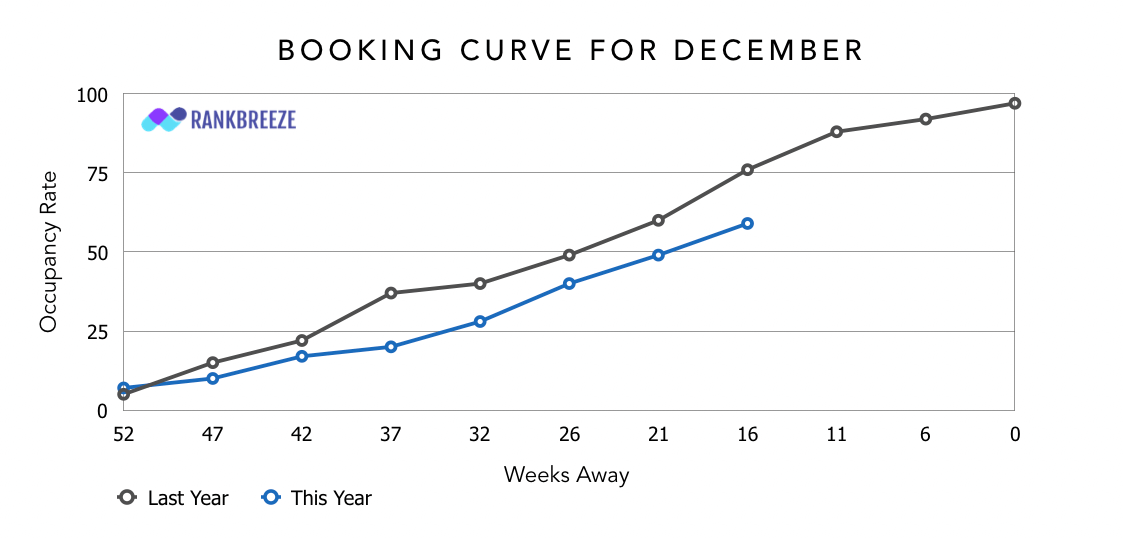 5) Analyze Comparable Listings & Forward-Looking Metrics
One of our simplest tips is to look at an upcoming vacant date, such as a weekend, and run an Airbnb SEO spot check strategy.
The core idea is to see how your listing looks from the viewpoint of a guest running a search.
Put yourself in the shoes of a traveler and see if your listing is click-worthy or not.
Visit the guest-facing side of Airbnb, search for open dates, and then see where your listing appears in the results.
Does it look worth clicking or are other properties more attractive?
Also, look at listings around you that are similar in location and quality.
Ask yourself additional questions like these:
What are others are priced at and how do you anchor above or below them?
People are usually willing to book a little above their price ceiling for the right property
What does supply look like? Keep an eye on specific competitors and their calendars
What does demand look like? Consider using Google Trends to analyze this
What are your click-through-rates and how do they compare to your market?
Airbnb provides these metrics in their performance tab
There are 20+ other important frameworks to consider so if you'd like to learn more, I'd encourage you to check out this on-demand workshop we've put together.
6) Limit Weekends To 2-Night Minimums
Letting people checkout in the middle of your weekend provides an opportunity for the night to stay unbooked unless severely discounted.
Keep weekends blocked so people can only book reservations for at least two nights during the weekend.
There's an argument that you should have as much turnover as possible but at the same time, each guest adds to your business operational and cleaning costs and wear and tear on the property.
Plus there are plenty of people willing to book a weekend for 2 nights.
7) Try Parent & Child Listings
You can split up a large 16-guest home into multiple listings.
This allows you to position your properties so that one of the listings is more attractive than the others.
For example, try to get your whole home filled up for the weekends while separating your upstairs and basement suites to be more attractive for weekdays.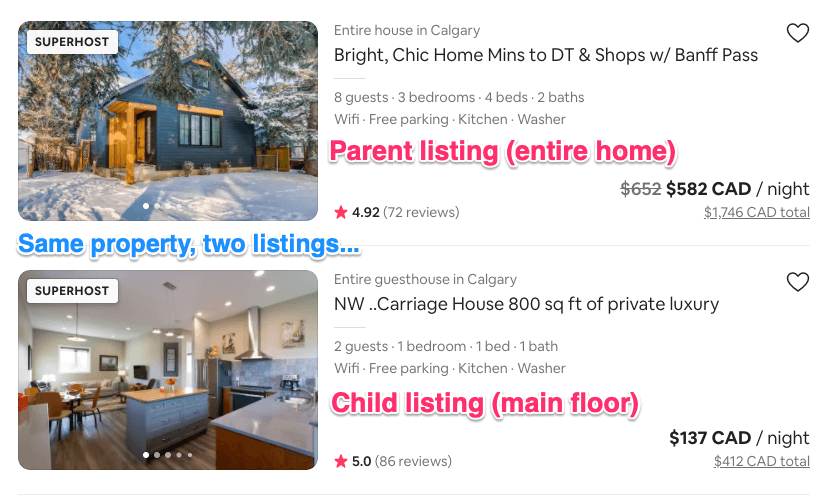 8) Stair-Step Your Prices 
Set your listing so that with each guest, the price increases.
For example, for 4 guests you raise the price by $10. For 5 guests, you raise it another $10.
After you've done this for a while, go back and try to re-optimize it.
Turn this into a monthly or quarterly inspection of your pricing strategy.
9) Manage Your Airbnb Seasonal Pricing
Know when the peak seasons come and go.
Sometimes markets have high seasons that last for months while other markets might have specific peak dates. A good way to check this is by looking at search demand in Google Trends.
Also, when you understand your average booking curve for those peak months, you can really capitalize on seasonal booking trends.
Here is an image showing the year-over-year search patterns of people searching for Airbnbs & VRBOs in San Diego.
You can see that every year that searches start to spike in March and continue on for the summer months.
10) Factor in Special Events OR Create One!
Tools, such as PredictHQ, and even Airbnb, are able to tell you the popularity of local events but have you ever considered what you might do when it's low season and you have historically low bookings for that time?
Why not create an event?
This is a great opportunity to work with local businesses, such as restaurants, event centers, publications, etc., to build up traction during a slow time for everyone.
11) Supervise Your Prices
Our final tip is that you should still supervise any tool that you're using. If you are using Airbnb's smart pricing tool then be sure to adjust your prices using the tips we've laid out above.
Alternatively, you can use our Pricing Calendar in Rankbreeze and plug in your competitors and price match.
This way you'll always be on top of the competition and be within a reasonable range of your competitors and outsmart them.
Where To Next?
We could spend days discussing tips for a comprehensive Airbnb pricing strategy – this is just the tip of the iceberg.
We'll continue updating this post when we can so it has up-to-date information.
If you're not a user of Rankbreeze yet, we'd love to invite you to start your trial here.